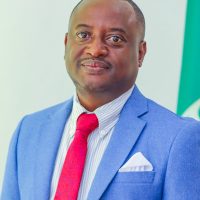 Dr. Sabiiti Mulema
SCHOOL OF BUSINESS
DEAN, SCHOOL OF BUSINESS PROFILE
BIOGRAPHY
SABIITI MULEMA
AG. DEAN-BUSINESS SCHOOL
BBA, MBA, PhD TRACK (NKUMBA UNIVERSITY)
Dr.Sabiiti`s PhD research focuses on Community Socio-Economic Development. He has published several papers and Book chapters (perspectives on the information society) and supervised research for graduate students from different Universities including International Leadership University in Burundi. Sabiiti is a Business consultant, trainer and a coach in different business
functions. He has helped different Companies like Oceanic Terminal Uganda, Cross boarder Brand Company, The dealers Herb, and Oceanic wineries among others to grow profitably. His
teaching is in areas of Management and Marketing. Prior to joining KCU, Dean Sabiiti served as an Ass. Lecturer at Kyambogo University, Sales Manager at East African Breweries (Diageo),
Senior Sales Manager at Vision Group, Sales Manager at Smile Telecom and Head of Sales and Marketing at MCash/HFB.
DEAN`S MESSAGE
Welcome to the school of Business and Management at KCU where educating the next generation of Business Managers has been our mission. The school members offer distinctive personal instruction, mentoring and advising each and every student. Our goal is to work closely with students to prepare them to be successful business leaders and wealth multipliers. The school team is committed to developing forward-thinking, innovative leaders who are prepared to solve problems within the rapidly changing global business environment. We aim at achieving equity in access, student success, and high quality learning for each of our students. Innovation is a recurring and unifying theme at KCU. We are in a changing world and we MUST change the way we teach and do Business. We hope this website section will make our diversity, equity, and inclusion work for our growing community. We are the destination of a Better World. Our growth and focus is influenced by the "desired future". I would like to cordially invite all of you who are interested in expanding your knowledge and enriching your careers to explore our school either online or a visit to our campus. "It`s Business and it will always be "
SABIITI MULEMA
(BBA, MBA, PhD Track)
AG. DEAN
SCHOOL OF BUSINESS